Patient assistance programs (PAPs) are essential for promoting medication adherence and empowering patients to participate in their own healthcare. At mClinica, we created the Connect platform to power effective digital patient assistance programs that enable pharmaceutical companies, pharmacies, and other healthcare providers, to deliver value to their patients beyond just a pill. Read on to find out 5 things that successful digital PAPs, like Connect, have in common:
1. Digital PAPs value communication between healthcare providers and patients
 Good communication between healthcare providers and patients is crucial to achieve positive health outcomes. For example, Connect will send patients targeted health education messages and prescription refill reminders on behalf of the healthcare provider. These communication tools are immensely useful for educating patients, promoting drug adherence, and strengthening the relationship between patients and the health professionals serving them.  
2. Digital PAPs improve affordability and track medication adherence
In any patient adherence program, affordability is a top priority. One way to do this is by rewarding patients for participating in the program. For instance, patients registered through Connect can be required to use a code when filling their prescription in exchange for free or discounted medication. The use of a code also allows healthcare providers to track whether or not patients are adhering to their prescriptions. Furthermore, medication discounts in patient adherence programs is especially important given the rise in patients with chronic illnesses who require long-term treatment.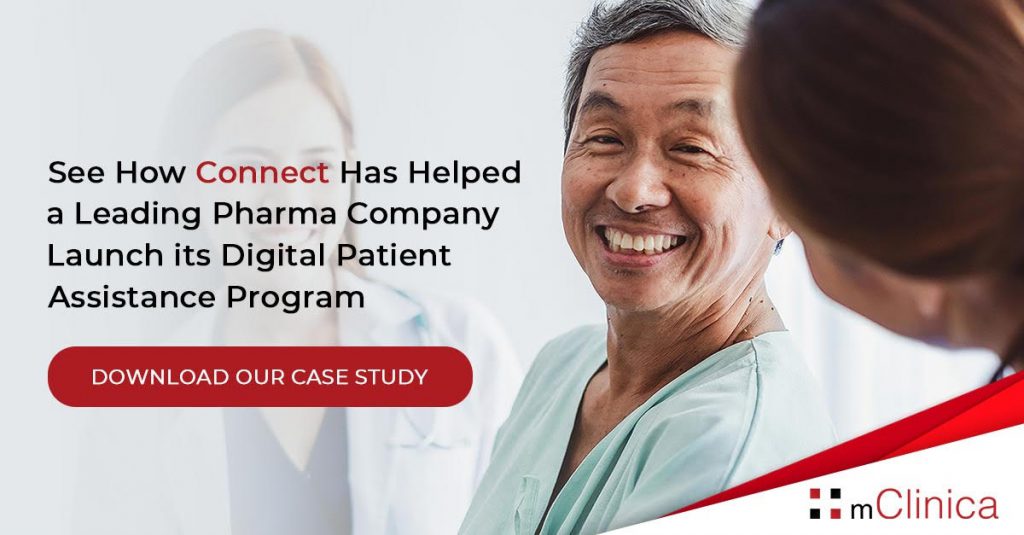 3. Digital PAPs reduce administrative burden and facilitate scaling
Implementing a digital patient assistance program significantly reduces the administrative burden often associated with offline PAPs. Healthcare providers can easily manage several patients on different types of treatments through a single online platform. With Connect, reimbursement requests from HCPs are processed automatically and the platform can handle rapidly growing numbers of patients and information— and require very little manpower in doing so! 
4. Digital PAPs help build brand recognition and loyalty
Successful patient adherence programs increase brand recognition and loyalty. As a white labelled application, Connect is fully brandable. By providing a convenient digital PAP to both HCP and patients, a pharmaceutical company can build trust and positive brand association. This in turn improves brand loyalty and overall sales.
5. Digital PAPs are data driven
Digital PAPs help collect and analyze programs data in real-time.  They can provide pharmaceutical companies with highly customizable reports and analytics to help them better understand and improve business performance. Connect integrates a dashboard which helps track data in real-time and get deep insights into both HCPs and patient behavior.
You might be interested in:
The Malaysian Academy of Pharmacy and SwipeRx partner to bring continuing education to the digital age
SwipeRx showcased at the 2019 Philippines Pharmacists Association National Convention