On the 5th March 2020 at Serai Restaurant, Paradigm Mall in Malaysia, representatives from mClinica Pharmacy Solutions, a leading healthtech provider, and Persatuan Penolong Pegawai Farmasi Malaysia (PPPFM) signed a memorandum of understanding which seeks to improve education for pharmacy  assistants across Malaysia. 


To achieve this, PPPFM is exploring the introduction of pharmacy-driven mobile technology pioneered by mClinica Pharmacy Solutions. SwipeRx is a first-of-it's-kind mobile app which will allow PPPFM to interact with pharmacy assistants at scale. SwipeRx reaches over 40,000 pharmacies, who interact with an estimated 150 million patients across Southeast Asia. This convenient and easily accessible solution will enable PPPFM to increase knowledge sharing with pharmacists and pharmacy assistants and increase the uptake of continuing professional development (CPD) courses via e-modules.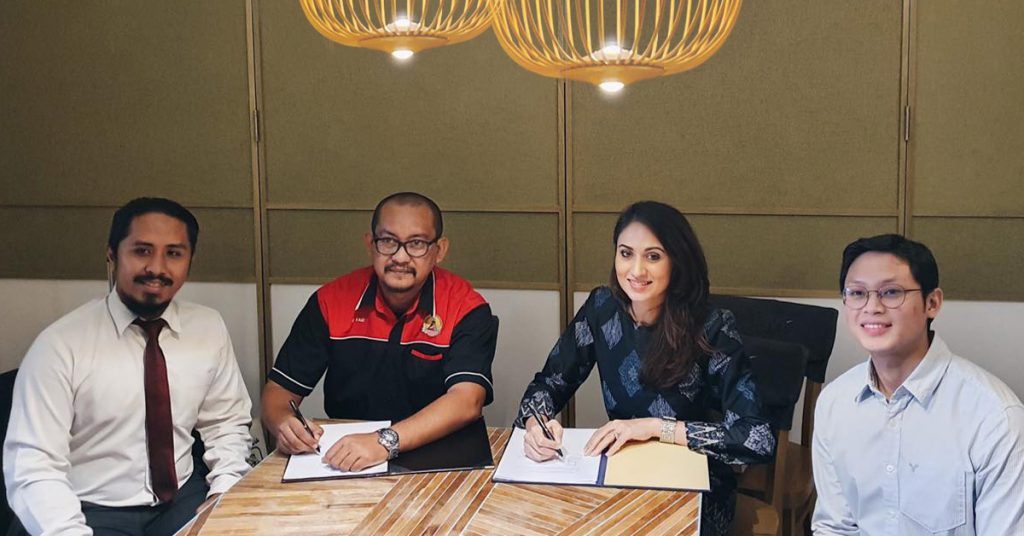 The need for a digital solution like SwipeRx is driven by a demand from patients and pharmacy professionals for rapid communication, cost-effectiveness, convenience and scale. While pharmacists and pharmacy assistants alike are eager to equip themselves with more knowledge so they can better support patients, the current methods of acquiring knowledge is limited to face-to-face training events. This traditional process is restricting opportunities as they need to take a whole day off to attend a face-to-face course. The travel-time required and the time away from the pharmacy, especially for rural pharmacies, is limiting the time doing what matters most –  spending time with patients. Research also shows that knowledge retention from traditional training methods is low as statistics show that 50% of traditional training is forgotten by the end of the day and by the end of the week, 90% is gone. The challenge is amplified during crisis situations, such as the current COVID-19 outbreak, whereby education needs to reach pharmacy professionals rapidly in order for them to act fast. 


As pharmacy professionals known for their active participation in their communities, PPPFM has recognised the value in mClinica's efficient multi-touch mobile app which has the ability to make education more flexible and nimble in response to – or anticipation of – changing healthcare needs. 


mClinica Pharmacy Solutions is grateful to have the opportunity to support PPPFM.


CEO and Founder, Mr Farouk Meralli said,
"We are excited to help PPPFM foster stronger connections with the highly fragmented pharmacy channel, and eager to play a part in strengthening health outcomes for patients. While pharmacies and technology are at the heart of our business, it is always the patients who will reap the most benefits and that's what matters most."

Attendees included:
● Tuan Haji Mohd Nor Faiz Bin Zaman (President, PPPFM)
● Encik Mohd Fikhri Bin Abdullah (Secretary, PPPFM)
● Cik Noor Shafizah Binti Jaamat (Deputy Secretary, PPPFM)
● Mr. Aaron A/L Thomas Michael (Penang Representative for Private Health Sector, PPPFM)
● Mr. B Raj Mohan A/L M Bala Krishnan (Member, PPPFM)
● Ms. Jasveen Bhullar (Commercial Operations Manager, mClinica )
● Mr. Mohammad Aqil Bin M. Fathil (Pharmacy Community Associate, mClinica)


About SwipeRx


SwipeRx, is a multi-touch digital solution that heightens pharmacy education with cost-effective e-learning modules for continuing professional development. It is the largest digital network of pharmacy professionals in Southeast Asia and it connects fragmented pharmacies with pharmaceutical manufacturers, consumer health companies, distributors and wholesalers. SwipeRx allows the industry stakeholders to collaborate more effectively, strengthens market access and optimises commercial strategies. SwipeRx also plays a dual role amassing pharmacy insights through real-time surveys and increases brand visibility for manufacturers via digital campaigns.


For more information visit https://www.swiperxapp.com/


 About mClinica Pharmacy Solutions


mClinica Pharmacy Solutions has created the largest pharmacy network in South East Asia by empowering pharmacies to be the centre of care. Our Trade and Patient Solutions enable more than 40,000 pharmacies, who interact with 150 million patients, to operate more efficiently and effectively. This unique position allows us to generate unparalleled pharmacy insights for the benefit of pharmaceutical companies, consumer health manufacturers, and the public sector who are now able to reach the fragmented pharmacy channel at an unprecedented scale. Our easy-to-use, scalable and industry-compliant solutions generate positive social impact as they improve affordability for patients, increase access to medicines and treatment, and boost adherence. mClinica Pharmacy Solutions is powered by a specialised team and our solutions are available across 7 markets in Southeast Asia. 


For more information, visit https://www.mclinica.com/


About Persatuan Penolong Pegawai Farmasi Malaysia (PPPFM)


This association was established in Kuala Lumpur in 1974 and was registered under the Societies Act 1966 with a registration code 1717. Registration was approved on 22nd October 1975 and the membership was open to all licensed pharmacy assistants in Malaysia.


In the early days, this association faced various challenges. In the 1980s, it was moved to Ipoh, Perak and only had active members around that state. The society struggled financially and with only RM5.50 on hand, they moved to the east coast in 1990.  The committee members at that time were amongst the pharmacy assistants working in Kelantan and Terengganu.


There were few road shows undertaken to increase awareness and add more members to the society. These activities were conducted at own expenses due to the financial situation of the society then. Today, PPPFM is standing tall and proud because this association has been reactivated and the funding has increased as a result of the effort of the committee members.


For more information, Click here


---


Translation in Malay

Memorandum Persefahaman Diantara mClinica Pharmacy Solutions Dan Persatuan Penolong Pegawai Farmasi Malaysia



Pada 5 Mac 2020 bertempat di Restoran Serai, Paradigm Mall di Malaysia, wakil kanan dari mClinica Pharmacy Solutions, pembekal teknologi kesihatan terkemuka, dan Persatuan Penolong Pegawai Farmasi Malaysia (PPPFM) telah menandatangani memorandum persefahaman (MoU) yang bertujuan untuk meningkatkan kualiti pendidikan di kalangan penolong pegawai farmasi (PPF) di seluruh Malaysia.
Dalam usaha untuk merealisasikan matlamat ini, PPPFM meneroka teknologi mudah alih berasaskan farmasi yang dipelopori oleh mClinica Pharmacy Solutions iaitu "SwipeRx". SwipeRx adalah aplikasi mudah alih yang pertama dalam kategori aplikasi mudah alih yang membenarkan PPPFM berinteraksi dengan PPF lain pada skala yang lebih luas. SwipeRx pada masa kini telah mempunyai penyertaan lebih daripada 40,000 ahli yang berkaitan dengan sektor farmasi dan ini melibatkan hampir 150 juta pesakit di seluruh Asia tenggara. Kaedah penyelesaian yang senang dan mudah dicapai ini akan membolehkan PPPFM meningkatkan perkongsian pengetahuan dengan ahli farmasi dan PPF melalui penggunaan kursus CPD secara atas talian.


Didorong oleh permintaan daripada pesakit dan farmasi profesional kepada keperluan komunikasi yang cepat, kos yang efisien, mudah dikendali dan ruang lingkup penglibatan yang luas maka telah mewujudkan penyelesaian digital SwipeRx. Walaupun ahli farmasi dan PPF mampu untuk melengkapkan diri dengan pengetahuan terkini untuk membolehkan mereka memberi perkhidmatan yang lebih baik tetapi kaedah pembelajaran yang dilaksanakan adalah masih lagi menggunakan kaedah lama yang memerlukan mereka menghadirkan diri pada kursus. Kekangan masa untuk menghadiri kursus dan kerja terutama farmasi luar bandar mendatangkan dilema bagi mereka kerana asas masa perkhidmatan adalah untuk pesakit. Kajian juga telah membuktikan pengaplikasian pengetahuan dari kaedah latihan tradisional ini adalah rendah. Statistik menunjukan 50% yang dipelajari daripada latihan gagal untuk mengingati perkara yang dipelajari pada hari yang sama, 90% dalam masa satu minggu dan seterusnya matlamat pembelajaran itu gagal. Cabaran ini menjadi lebih rumit apabila melibatkan situasi yang kritikal seperti wabak COVID-19 yang melanda dunia pada masa kini yang mana setiap maklumat dan pendidikan yang terkini perlu disampaikan dengan cepat dan tepat supaya tindakan lanjutan dapat dilaksanakan pada kadar yang segera.


Sebagai salah satu badan farmasi profesional yang aktif dalam penglibatan komuniti, PPPFM telah mengiktiraf kelebihan dan kemudahan yang dimiliki oleh aplikasi mudah alih mClinica yang mana mampu untuk menjadikan pendidikan yang ingin disampaikan lebih fleksibel dan responsif terhadap sebarang perubahan terkini berkaitan dengan penjagaan kesihatan.


mClinica Pharmacy Solutions juga amat berbesar hati kerana diberi peluang untuk menyokong PPPFM. Pengasas dan juga Ketua Pegawai Eksekutif mClinica Pharmacy Solutions, Encik Farouk Meralli berkata, "kami amat teruja untuk membantu PPPFM dalam memupuk hubungan yang lebih kuat di kalangan pelbagai rangkaian perkhidmatan farmasi, dan bersedia untuk terlibat sama dalam penjagaan kesihatan pesakit. Walaupun farmasi dan teknologi merupakan teras kepada perniagaan kami, pesakit tetap yang akan mendapat manfaat yang paling banyak dan itulah yang paling penting."


Mereka yang terlibat semasa memorandum:
● Tuan Haji Nor Faiz Bin Zaman (Yang Di Pertua, PPPFM)
● Encik Mohd Fikhri Bin Abdullah (Setiausaha Kehormat , PPPFM)
● Cik Noor Shafizah Binti Jaamat (Penolong Setiausaha Kehormat, PPPFM)
● Encik Aaron A/L Thomas Michael (Wakil Negeri Untuk Sektor Swasta, PPPFM)
● Encik B Raj A/L Bala Krishnan (Ahli PPPFM)
● Puan Jasveen Bhullar ("Commercial Operations Manager", mClinica)
● Encik Mohammad Aqil Bin M. Fathil ("Pharmacy Community Associate", mClinica)


SwipeRx adalah platform digital mudah alih yang mampu untuk meningkatkan kualiti pendidikan farmasi dengan modul e-pembelajaran yang lebih menjimatkan untuk pembangunan professional yang berterusan. Ia merupakan platform digital yang berkaitan dengan perkhidmatan farmasi terbesar di Asia tenggara dan menghubungkan pelbagai rangkaian farmasi seperti pengeluar farmaseutikal, syarikat kesihatan pengguna, pengedar dan pemborong. SwipeRx juga menjadi perantara bagi membolehkan pemegang taruh-pemegang taruh industri besar untuk bekerjasama dengan lebih berkesan, memperkukuhkan akses pasaran dan mengoptimumkan strategi komersial. SwipeRx juga berfungsi sebagai medan pengumpulan pandangan farmasi menerusi kaji selidik yang diadakan dan meningkatkan promosi jenama untuk pengilang melalui kempen digital.


Untuk maklumat lanjut, lawati https://www.swiperxapp.com/


mClinica Pharmacy Solutions telah mewujudkan rangkaian farmasi terbesar di Asia Tenggara dengan memperkasakan farmasi sebagai pusat penjagaan. "Trade and Patient Solutions" kami membolehkan lebih daripada 40,000 farmasi berinteraksi dengan 150 juta pesakit, mampu untuk beroperasi dengan lebih cekap dan berkesan. Kedudukan yang istimewa ini membolehkan kami mengumpul pandangan farmasi dari semua sudut untuk manfaat syarikat farmaseutikal, pengeluar kesihatan pengguna dan sektor awam yang kini dapat mencapai rangkaian-rangkaian kecil farmasi pada skala yang besar. Penyelesaian yang mudah digunakan, berskala dan berlandaskan industri ini menjana kesan sosial yang positif apabila mereka mampu meningkatkan kemahiran untuk pesakit, meningkatkan akses kepada ubat dan rawatan dan meningkatkan pematuhan ubat. mClinica Pharmacy Solutions dikendalikan oleh pasukan khusus dan boleh didapati di 7 pasaran Asia tenggara.


Untuk maklumat lanjut, lawati visit https://www.mclinica.com/


Persatuan ini telah ditubuhkan di Kuala Lumpur pada tahun 1974 dan telah berdaftar di bawah Akta Pertubuhan 1966 dengan nombor pendaftaran 1717. Kelulusan pendaftaran ini diperolehi pada 22 oktober 1975. Keahlian persatuan ini adalah terbuka kepada warganegara Malaysia yang memiliki Sijil Pembantu Farmasi. (kini Dipoma Farmasi).


Pada peringkat awal penubuhannya, persatuan ini melalui pelbagai cabaran. Pada tahun 1980an, pusat persatuan ini telah berpindah ke Ipoh, Perak di mana ianya hanya aktif di kalangan ahli di sekitar negeri tersebut sahaja. Dengan baki akaun hanya Rm5.50 ia dipindahkan pula ke pantai timur semenanjung  pada tahun 1990 yang mana Ahli Majlis pada masa tersebut adalah mereka yang bertugas di Kelantan dan Terengganu. Disini mereka telah mengadakan beberapa "road show" untuk meningkatkan kesedaran PPF dan meningkatkan lagi penyertaan serta keahlian. Aktiviti yang dilaksanakan adalah sepenuhnya dibiayai oleh ahli majlis sendiri. Kini, persatuan semakin kukuh dan membanggakan setelah usaha keras yang dilaksanakan bagi menjayakan persatuan ini. Sumber kewangan juga semakin kukuh atas usaha keras daripada semua ahli majlis dahulu dan kini.


Untuk maklumat lanjut, lawati Click here
You might be interested in:
mClinica speaks at the ADB's Catalyzing Private Capital for Aging Care in Thailand Roundtable Discussion
Improving patient engagement: mClinica partners with Malaysian Pharmaceutical Society's Young Pharmacist Chapter on upcoming symposium.
mClinica's SnapRx platform wins Award at the World Government Summit