The US Food and Drug Administration (FDA) released a statement on 13 September 2019 to alert patients and healthcare professionals of possible contamination of N-Nitrosodimethylamine (NDMA), a probable human carcinogen, in some ranitidine products. 


The FDA was first alerted to the contamination by online pharmacy Valisure, who found that the "inherent instability" of the ranitidine molecule is what results in NDMA formation once it has been consumed and exposed to human body conditions. 


What is NDMA?

NDMA is a known environmental contaminant found in water and processed foods such as beer, cured meats, and cheeses, and could increase the risk of cancer if consumed above acceptable levels over the long term. 


Ranitidine is available in film-coated tablets, capsules, effervescent tablets, syrups, and injection forms. The pharmacy network will recognise it as a commonly prescribed and over-the-counter drug that treats gastroesophageal reflux diseases (GERD) like heartburn. It works as a histamine-2 (H2) blocker, which reduces acid production to treat or prevent ulcers in the stomach and intestines. The most common brand name for ranitidine is Zantac. 


What kind of cancer is caused by NDMA?

Studies by NCBI have shown that NDMA causes liver cancer in laboratory animals when consumed orally. Other laboratory tests on mice by the Agency for Toxic Substances and Disease Registry (ATSDR) have also shown that risks of long-term NDMA exposure include liver and lung cancer, non-cancerous liver disease, internal bleeding, and death. There is no conclusive evidence yet that NDMA causes cancer in humans, but, according to the ATSDR it is reasonable to expect that the effects will be similar. 


How much NDMA is in ranitidine? 

The acceptable limit for NDMA is 96 nanograms per day, or 0.32 ppm, calculated based on the assumption of daily use over a lifespan of 70 years. FDA's batch analysis found the following levels of NDMA in some ranitidine products found in the U.S. Findings beyond the acceptable limit are highlighted in yellow.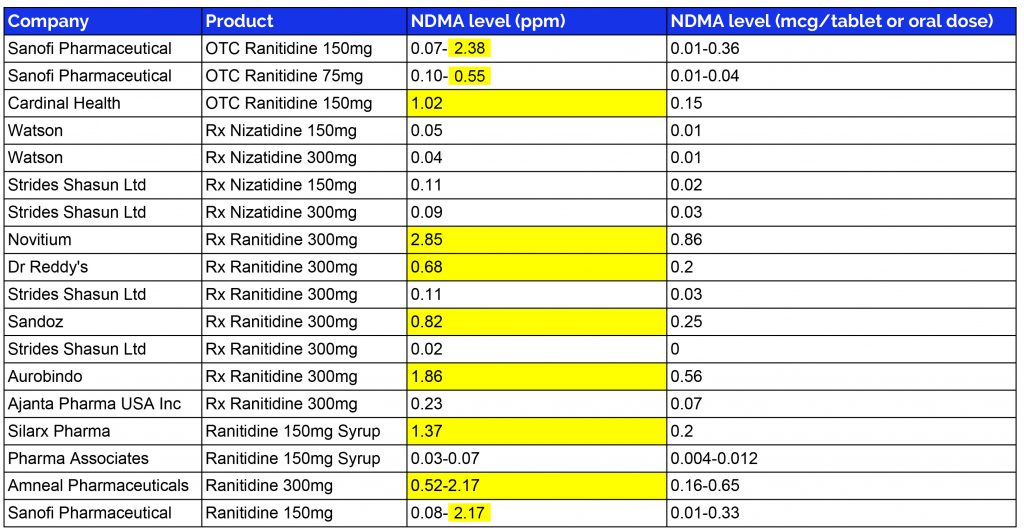 The FDA states the levels of NDMA found in these drugs is not as "extremely high" as first alerted by Valisure, but actually "similar to the levels you would expect to be exposed to if you ate common foods like grilled or smoked meats". But according to Valisure CEO, David Light, "There's no acceptable cancer risk for a drug like this."


Which ranitidine has been recalled? 

The FDA has asked for manufacturers to conduct their own internal tests and voluntarily recall their ranitidine medicines if NDMA levels exceed acceptable limits. So far, 12 manufacturers in the U.S. have voluntarily recalled their ranitidine products including: 


• Sandoz
• Apotex Corporation
• Sanofi
• Dr. Reddy's Laboratories Ltd
• Perrigo Company PLC
• Novitium Pharma LLC
• Lannett Company, Inc.
• Aurobindo Pharma USA
• Amneal Pharmaceuticals LLC
• Glenmark Pharmaceutical Inc.
• Appco Pharma LLC
• Mylan N.V.


In addition to pharmaceutical manufacturers, repackaging companies and drug distributors (like GlaxoSmithKline) can also initiate a recall of ranitidine products as a precautionary measure. If unsure, do check with your domestic health authorities on which products have been recalled in your country. 


Is ranitidine banned? 

Ranitidine has not been banned on a global level, and countries have had varying responses to the report of NDMA contamination. Some countries like Fiji have simply issued a health alert to caution the public, while others like Canada and Denmark have imposed a blanket ban on all ranitidine products. 


In Asia, Singapore, Malaysia, Hong Kong, Taiwan, and Vietnam have conducted government-issued recalls of selected ranitidine products, and have halted further distribution of ranitidine. Taiwan is even issuing fines against manufacturers who fail to comply with stipulated recall dates. Bangladesh has completely banned the sale and distribution of all ranitidine products in the domestic market. 


How should the pharmacy network respond? 

FDA's official advice to healthcare professionals is to continue prescribing medications as they see fit, even if they may have low levels of nitrosamine contamination. 


However, there are also multiple other drugs that have been approved for the same use as ranitidine in the treatment of stomach ulcers, GERD, and Zollinger-Ellison syndrome. The pharmacy network may consider H2 blocker alternatives such as famotidine, cimetidine, esomeprazole, lansoprazole, or omeprazole, as the FDA has yet to find similar issues of NDMA contamination. 
Alternatively, prescribers may choose alternative treatment options, such as famotidine and cimetidine. 
It's important to check with your respective country's health ministry on their official stance on ranitidine recall or instructions on what to do about existing stocks. 


What can pharmaceutical manufacturers and the public sector do?

As always, informed patients have better outcomes. By engaging with patients on our pharmacy mobile app, SwipeRx pharmacists can be quickly educated when such incidences of contamination arise. It's crucial for pharmacy professionals to find out about these situations as quickly as possible, so they can provide alternative options to patients.

SwipeRx is the fastest way to reach the highly fragmented pharmacy network across Southeast Asia. On SwipeRx you can reach 40,000 pharmacists who interact with an estimated 150 million patients. 

To find out more about SwipeRx click here.


You might be interested in:
mClinica's SnapRx platform wins Award at the World Government Summit
SwipeRx showcased at the 2019 Philippines Pharmacists Association National Convention