Across the globe many people are working multiple jobs in order to earn the income they need to keep up with rising costs. A dollar today just doesn't buy what it used to. But, it's not just the price of a Gucci bag that has increased, necessities continue to skyrocket. What makes the increase in drug prices particularly worrying is that when faced with a serious illness, most people are unable to work to earn the money they require to cover these expenses. This puts an unnecessary toll on top of an already challenging situation and governments have started to step in.


Governments are trying to make medications more affordable 


According to OECD/Who Health at a Glance 2016, pharmaceutical spend is a significant driver of rising healthcare costs. It accounts for a quarter of all health expenditure in APAC and the figures are even higher for lower-middle income countries. The report also highlighted an annual growth rate of 6% on medication spend in APAC which has outpaced general health spending. In fact, in some emerging Southeast Asian countries, the percentage increases to 9%. On a global scale, The World Health Organization estimates that a staggering 100 million people each year are pushed below the poverty line as a result of rising health care costs. 


Across Southeast Asia, governments are trying to roll out measures for price controls in order to improve affordability and address unmet medical needs. Here's the state of play across major Southeast Asian markets:


Malaysia


The Health Minister in Malaysia, Doctor Dzulkefly Ahmad recently announced that the government was drafting a proposal to control the prices of drugs in the country. The expected cost-containment measures in the proposal are said to include the promotion of generics, closer monitoring of drug prices, changes to the pricing system and a proposed pharmacoeconomic evaluation. In an online article by The Star Online, Dr Dzulkefly said the country has procured 53.6% of generic medicines and from that, 50.3% were locally manufactured generic ones. The bottom line is that the government wants to make access to medicine affordable for all citizens.


Philippines


The Philippines, which is showing rapid economic and population growth, already shows a higher utilisation rate of lower-cost generic alternatives compared to other Southeast Asian countries. Yet, the government is doubling its efforts under the universal health care initiative to further control drug prices. One way they are trying to achieve this is by accelerating the availability of generic medicines by procuring products in bulk to drive down prices.  


Indonesia


Consumption patterns of generic medicines is also expected to increase in Indonesia. This is driven by UHC-driven demand from mostly government run, but also select private hospitals.  Thanks to increasing access to healthcare through UHC and the country's rapid economic development, it is expected that the high rates of self-treatment that the country is typically known for will diminish as more and more citizens seek treatment in clinics and hospitals. The Indonesian government is preparing for the demand by pushing for self-sufficient drug production, and opening the pharmaceutical industry to foreign investment. A particular focus for the Indonesian government is oncology, cardiovascular, infectious diseases and diabetes. 


Governments are focused on promoting generic alternatives to reduce medication prices because unlike the West, medication expenses are largely out of pocket in Southeast Asia. The accelerating rate at which Asia is ageing compared to the rest of the world is also front-and-centre. Some reports show the region will have the oldest population in the world within the next few decades. 


Concerns of rising medication prices evident among pharmacy professionals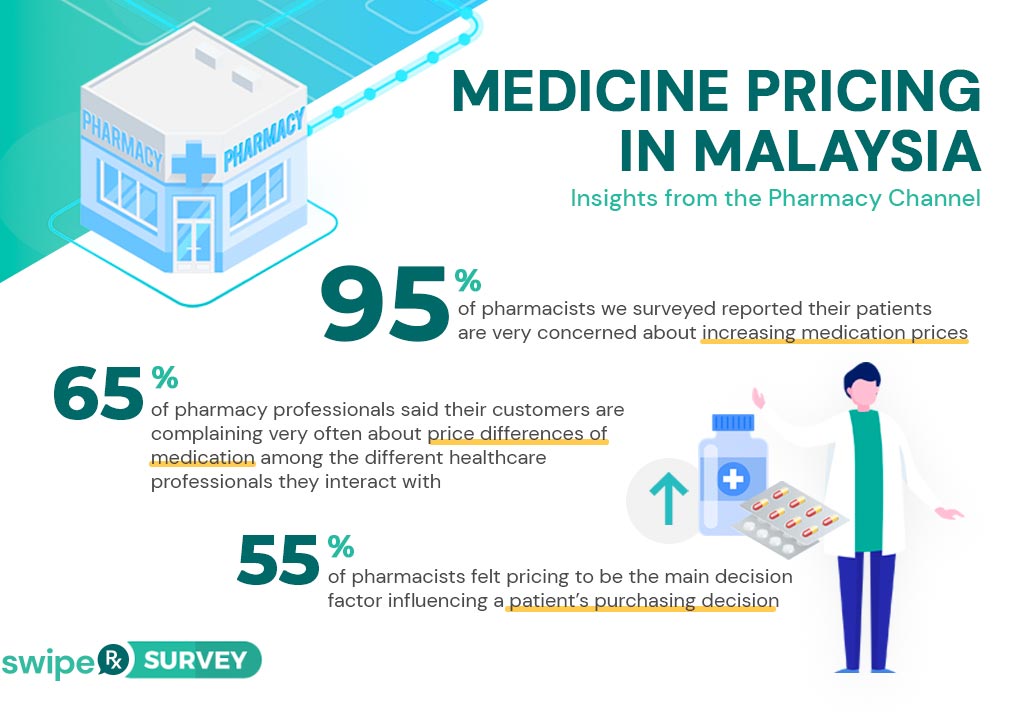 In a recent SwipeRx survey conducted in Malaysia in 2019 the high price sensitivity of patients was evident. 134 pharmacy professionals were surveyed, here's what we found:


Whereas, a fraction of that, 23% considered drug efficacy to be the most important factor influencing a patient's decision, a low 12% considered that their own professional recommendations were most important, and only 3% considered the patients knowledge on the medicine was a priority 
Interestingly, responses were evenly split (50% – 50%) when pharmacists were asked whether patients prefer generic medications over original sources


What can pharmaceutical companies do?


As we start to feel the effects of an ageing population and the likelihood of increased disease, it's critical for a sustainable healthcare system that the cost of medicine is reduced. As a result of the impending high demand of generic medications, robust commercial opportunities await pharmaceutical companies who can make medications more affordable. 


The ability to compete with generic companies requires innovative go-to-market strategies and new pricing strategies to win at the pharmacy channel. One such solution mClinica offers to support pharmaceutical companies with this goal is SwipeRx. 


SwipeRx is a first of its kind pharmacy network that can bring pharmaceutical companies direct first-hand market insights and facilitate rapid product education and awareness programmes that empower pharmacists to make a difference. We've worked with leading pharmaceutical companies to deliver proven value with four distinct advantages – increased speed to market, improved access to pharmacy and patient insights, ability to measure pharmacy performance and the opportunity to increase productivity. This paves the way for an increase in market share growth as well as an improvement in bottom line results and healthcare outcomes.  


mClinica is the only major professional company in Southeast Asia that brings together fragmented pharmacies to better support healthcare outcomes. We do this by providing tech-driven approaches to solve the most overlooked healthcare issues at the front line. 


If you are looking to gather business intelligence from our pharmacy network, or increase your brand recognition among pharmacists contact [email protected] to find out what opportunities are available.
You might be interested in:
Want to reduce childhood illness? Let pharmacists give vaccines.
Why are fake medicines still a problem in Southeast Asia?